Description
stainless flanged ball valve for on-off control of water, air, oil and other compatible media. Spring return actuators require a pneumatic pilot signal to change the valve position, springs will return the valve to the normal failsafe position. Double acting actuators use air pressure to open the valve and air pressure to close the valve. Advantages of air actuated ball valves over other type valves may include: higher flow rates, higher pressures, higher temperatures, wider media compatibility, straight through flow path, reduced water hammer, and use in hazardous environments.
Specifications
Materials
Body: Carbon Steel or Stainless Steel
Seats: TFM or 50/50
End Connections
ANSI 150# (1/2" to 8")
ANSI 300# (1/2" to 8")
Temperature Range:
TFM: 475°F
50/50: 525°F
Maximum Pressure:
Maximum differential pressure of 275 PSI, WCB - 285 PSI.
Hydrostatically pressure tested (body) and air pressure tested (seat) to the following:
ANSI 150#:
Stainless steel: 425 PSIG
Carbon steel: 450 PSIG
ANSI 300#:
Stainless steel: 1,100 PSIG
Carbon steel: 1,125 PSIG
Standard Steam Working Pressure:
150 SWP
Optional 300 PSIG
Available Actuators
Weatherproof Electric
Explosion Proof Electric
Pneumatic (single & double acting)
4-20 mA, or 3-15 psi Positioners for pneumatic
Manual Lever
Manual Lever with Limit Switch
Typical Applications
Refineries
Petrochemical
Chemical Process Equipment
Process Control Applications
Water and Waste applications
Pipeline applications
​

| | | | | | |
| --- | --- | --- | --- | --- | --- |
| Model | Size (mm) | Actuator | Media Pressure | Media Temperature | Actuator Pressure |
| Q641F-16C/P-15 | 15 | DA50 | Vacuum to 20 BAR (10 BAR Steam) | -20°C to 180°C | 6 to 8 BAR |
| Q641F-16C/P-20 | 20 | DA50 | Vacuum to 20 BAR (10 BAR Steam) | -20°C to 180°C | 6 to 8 BAR |
| Q641F-16C/P-25 | 25 | DA50 | Vacuum to 20 BAR (10 BAR Steam) | -20°C to 180°C | 6 to 8 BAR |
| Q641F-16C/P-32 | 32 | DA63 | Vacuum to 20 BAR (10 BAR Steam) | -20°C to 180°C | 6 to 8 BAR |
| Q641F-16C/P-40 | 40 | DA63 | Vacuum to 20 BAR (10 BAR Steam) | -20°C to 180°C | 6 to 8 BAR |
| Q641F-16C/P-50 | 50 | DA75 | Vacuum to 20 BAR (10 BAR Steam) | -20°C to 180°C | 6 to 8 BAR |
| Q641F-16C/P-65 | 63 | DA88 | Vacuum to 20 BAR (10 BAR Steam) | -20°C to 180°C | 6 to 8 BAR |
| Q641F-16C/P-80 | 80 | DA100 | Vacuum to 20 BAR (10 BAR Steam) | -20°C to 180°C | 6 to 8 BAR |
| Q641F-16C/P-100 | 100 | DA115 | Vacuum to 20 BAR (10 BAR Steam) | -20°C to 180°C | 6 to 8 BAR |
| Q641F-16C/P-125 | 125 | DA145 | Vacuum to 20 BAR (10 BAR Steam) | -20°C to 180°C | 6 to 8 BAR |
| Q641F-16C/P-150 | 150 | DA160 | Vacuum to 20 BAR (10 BAR Steam) | -20°C to 180°C | 6 to 8 BAR |
| Q641F-16C/P-200 | 200 | DA180 | Vacuum to 20 BAR (10 BAR Steam) | -20°C to 180°C | 6 to 8 BAR |
DIMENSIONS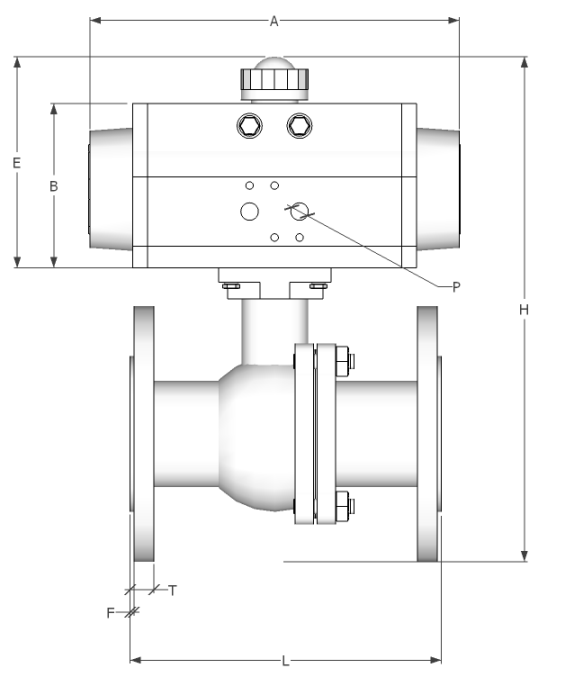 | | | | | | | | | | | | |
| --- | --- | --- | --- | --- | --- | --- | --- | --- | --- | --- | --- |
| DN (mm) | A | B | C | D | E | F | H | L | T | Actuator | P |
| 15 | 139 | 69 | 60.5 | 89 | 89 | 1.6 | 185 | 108 | 11.2 | DA50 | 1/8" |
| 20 | 139 | 69 | 70 | 98 | 89 | 1.6 | 197 | 117 | 11.2 | DA50 | 1/8" |
| 25 | 139 | 69 | 79.5 | 108 | 89 | 1.6 | 207 | 127 | 12 | DA50 | 1/8" |
| 32 | 162 | 80 | 89 | 117 | 100 | 1.6 | 244 | 140 | 12.7 | DA63 | 1/8" |
| 40 | 162 | 80 | 98.5 | 127 | 100 | 1.6 | 264 | 165 | 14.3 | DA63 | 1/8" |
| 50 | 207 | 97 | 120.5 | 152 | 117 | 1.6 | 289 | 178 | 15.9 | DA75 | 1/8" |
| 65 | 237 | 108 | 139.5 | 178 | 128 | 1.6 | 328 | 190 | 17.5 | DA88 | 1/8" |
| 80 | 271 | 121 | 152.5 | 190.5 | 141 | 1.6 | 363 | 203 | 19.1 | DA100 | 1/4" |
| 100 | 328 | 141 | 190.5 | 229 | 171 | 1.6 | 447 | 229 | 22 | DA115 | 1/4" |
| 125 | 428 | 176 | 216 | 254 | 206 | 1.6 | 565 | 356 | 23.9 | DA140 | 1/4" |
| 150 | 430 | 192 | 241.5 | 279 | 222 | 1.6 | 623.5 | 394 | 25.4 | DA160 | 1/4" |
| 200 | 482 | 222 | 298.5 | 343 | 252 | 1.6 | 728.5 | 457 | 28.6 | DA180 | 1/4" |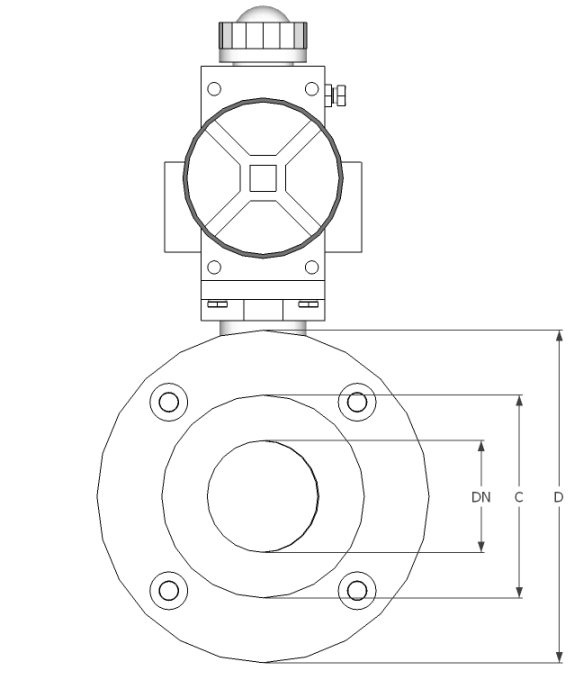 CONSTRUCTION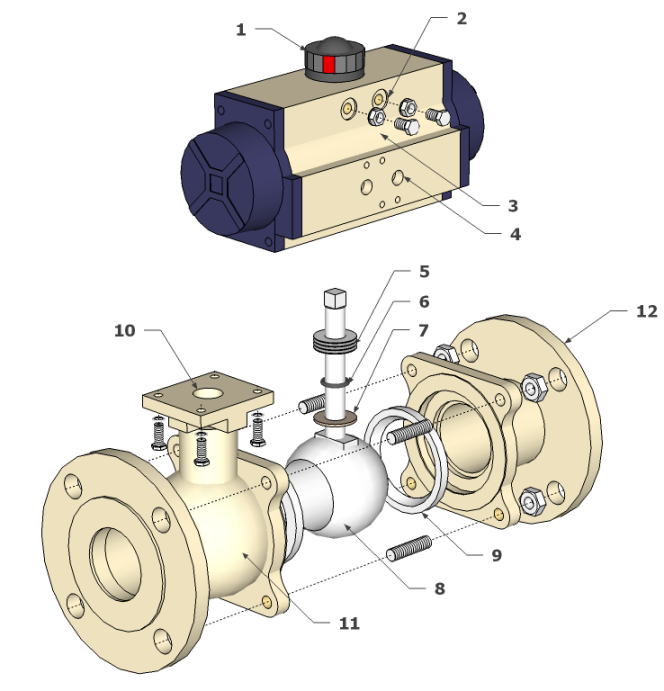 | | | |
| --- | --- | --- |
| Item | Article | Material |
| 1 | Visual Indicator | UV Stabilised Thermoplastic |
| 2 | Adjustable Stops | 316 Stainless Steel |
| 3 | Spring Return Pneumatic Actuator | Sealed Aluminium |
| 4 | Pressure Ports / Namur Interface | Sealed Aluminium |
| 5 | Chevron Seals | Carbon Reinforced Teflon |
| 6 | Backing O-ring | Viton |
| 7 | Thrust Washer | Carbon Reinforced Teflon |
| 8 | Ball | Polished 316 Stainless Steel |
| 9 | Seats | Carbon Reinforced Teflon |
| 10 | Mounting Pad | Cast Steel & Stainless Steel |
| 11 | Body | Cast Steel & Stainless Steel |
| 12 | Flange | Cast Steel & Stainless Steel |
Size 15mm to 200mm
Body Carbon Steel & Stainless Steel
Seat Reinforced Carbon PTFE
Pressure 150 pound
Temperature -20°C to 180°C
Actuation Spring Return Pneumatic