Three Piece Double Acting Pneumatic Threaded Ball Valve
Description
The advanced design of three piece ball valves allows for removing and servicing the center part of the valve containing the ball, stem, and seats without disconnecting the valve body from the line. Our fully encapsulated T316 stainless steel double acting pneumatic ball valves offer air-to-open, air-to-close configuration provides a maximum degree of automation for critical applications.
Features
• Full port.
• Working Pressure: 1000 PSI WOG.
• Working Temp.: -4°F to 392°F.
• Investment casting.
• Blow-out proof stem.
• Anti-static device.
• Locking device.
• Thread type: ASME B1.20.1 (NPT).
• Actuator air supply pressure: 72.5 PSI.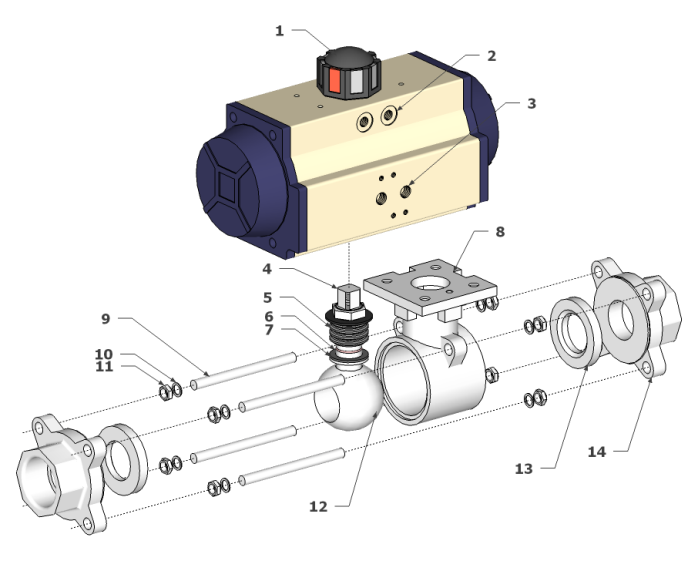 | | | |
| --- | --- | --- |
| Item | Article | Material |
| 1 | Visual Indicator | UV Stabilised Thermoplastic |
| 2 | Adjustable Stops | Stainless Steel |
| 3 | Supply Ports | Threaded & Namur Interface |
| 4 | Drive | 316 Stainless Steel |
| 5 | Chevron Seals | Reinforced Teflon |
| 6 | Backing O-ring | Viton |
| 7 | Thrust Washer | Reinforced Teflon |
| 8 | ISO Mounting Pad | 316 Stainless Steel |
| 9 | Tie Rods | 316 Stainless Steel |
| 10 | Washer | 316 Stainless Steel |
| 11 | Nut | 316 Stainless Steel |
| 12 | Ball | Polished 316 Stainless Steel |
| 13 | Seats | Reinforced Teflon |
| 14 | Body | 316 Stainless Steel |
Size 1/2" to 1 1/2" BSP
Body Nickel Plated Brass
Seat PTFE
Pressure 16 BAR
Temperature -10°C to 100°C
Actuation Double Acting Pneumatic
​